Sweetser Law Office is excited to begin the 2nd Annual Sweetser Closing Argument Competition at Gonzaga Law School. The closing argument competition will be hosted this Saturday, January 19, at Gonzaga Law School.
Each year three participants are awarded scholarships based on their skills-based oral advocacy during a closing argument presentation that focuses on monetary damages in the civil justice system.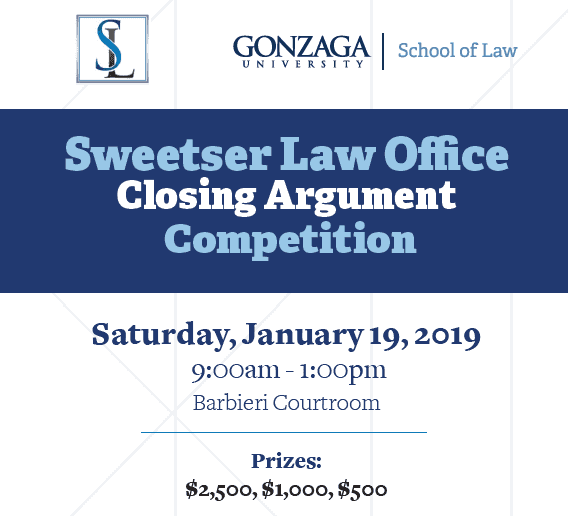 The Sweetser Closing Argument Competition was established by James R. Sweetser and Marcus Sweetser to inspire future trial attorneys. The competition is judged by a panel of law professors and trial attorneys. This year's judges include Matt Albrecht and Marshall Casey, who will be providing feedback and helping to select award recipients. The scholarship competition is available to all Gonzaga Law students (whether a first, second, or third-year student). Students interested in showcasing their oral advocacy or becoming future trial attorneys are encouraged to apply.
The Sweetser Closing Argument Competition asks students to prepare a closing argument under the pressure of time limitations. Students are provided a prompt with a tort law issue and are required to present their closing argument after only one hour of preparation. All participating students receive written feedback from judges and a videotaped recording of their closing argument. Students are encouraged to continue their growth as effective trial advocates.
Participating students, and the Gonzaga Law school community at large, are invited to an annual awards ceremony. During the awards banquet, the appointed panel of attorneys and judges, in conjunction with Sweetser Law Office and Gonzaga Law School, announce selected recipients of the Sweetser Law Office Closing Argument Competition. During the ceremony, video clips of students' exemplary arguments are highlighted by the panel. A plaque that hangs in the law school is engraved with the name of the 1st place recipient.
Sweetser Law Office would like to again thank the Gonzaga Law School Foundation, Gonzaga Law School's Alumni Association, Dean of Gonzaga Law School, Assistant Dean of External Affairs, Jeff Geldien, and the Gonzaga Law School students who participated in focus groups that were instrumental in the development of the Annual Sweetser Law Closing Argument Competition.
Go Zags!
For more details visit the official page for the Sweetser Law Closing Argument Competition.