Spokane Truck Accident Attorneys
Protecting Drivers by Enforcing the Rules of the Road for Truck Drivers

Based on information from the U.S. Department of Transportation, the Insurance Institute for Highway Safety reported that 4,119 individuals lost their lives in large truck accidents during 2019. Out of these accidents, 67 percent of the deaths were the occupants of passenger vehicles, 15 percent consisted of motorcyclists, pedestrians, and bicyclists, and 16 percent were truck occupants. The total number of 2019 truck accidents represents a 51 percent increase from those reported 10 years earlier in 2009.
Unfortunately, as noted above, those who most suffer in truck accidents are the drivers and their passengers of smaller vehicles. In these accidents, passenger vehicle occupants are more apt to suffer severe or catastrophic injuries or death than the truck driver. Personal injury cases involving commercial trucks are commonly complicated matters.
They involve federal trucking laws and trucking company insurers with extensive resources who work hard to reduce their liability when accidents occur. Because of this, if you are injured in a truck accident, you need an experienced and committed attorney who knows how to fight for you throughout the claims process. That is what you will find at Sweetser Law Office where we have proven results.
Formerly-elected Spokane prosecutor James R. Sweetser has concentrated on protecting our roads from negligent long-haul truck drivers for over 35 years. If you have been injured due to a negligent truck driver, our Spokane truck accident lawyers can offer guidance. Contact us at (509) 444-4444.
Big Rigs: 18-Wheeler Trucks & the Law
At Sweetser Law Office, we know the Federal Motor Carrier Safety Regulations (FMCSR) that are enforced and promoted by the Federal Motor Carrier Safety Administration (FMCSA). The U.S. Code of Federal Regulations officially publishes all of the FMCSR's findings to the public.
These Federal regulations apply to trucking companies and their drivers operating in interstate commerce. Regulations pertain to vehicle inspections, vehicle safety, and the negligence of drivers as well as the trucking company as a whole. In addition, these regulations apply to the hiring, training, and supervision of the trucking company's drivers.
As a large part of the FMCSR's mission, one of their goals is the regulations surrounding Hours of Service (HOS). This operates as a preventative measure against driver fatigue that in turn causes a majority of truck accidents. Any violation of one of these regulations by a trucking company or driver could be grounds to recover damages for a truck accident victim's injuries or death due to the company's and/or driver's negligence.
Because Spokane is the largest city between Seattle and Minneapolis, it is a hub for trucking activity involving many businesses and industries. Truck companies usually get paid by the mile so truck drivers have an incentive to deliver their loads as quickly as possible. Unfortunately, the trucking industries financial motives can encourage driving for long hours and unsafe activities on our roads including truck driver fatigue from overstressed or overworked drivers, defective equipment, distracted driving, improperly secured trailers or overloaded trucks.
Long-Haul Truck Drivers Are Required to Take Extra Precautions
The accident scene, authority's findings in the investigation, the condition of the big rig, and federal regulations compliance should all be investigated as early as possible after a truck accident. Important evidence after a serious truck accident can include logbooks, black box or computer event data, documents evidencing the load and prior deliveries, inspection of the tractor-trailer, inspection of the accident scene, or poor Training Policies. James R. Sweetser has experience handling complex litigation as a truck accident attorney and understands how to hold those responsible accountable for the injuries caused.
Common Types of Spokane Truck Accidents
Truck accidents can occur and manifest in various ways. Certain accidents are unique to semi-trucks and big rigs due to their massive size, length, and weight as opposed to smaller vehicles. Trucks take longer to come to a complete stop due to their weight. They also have blind spots due to their length.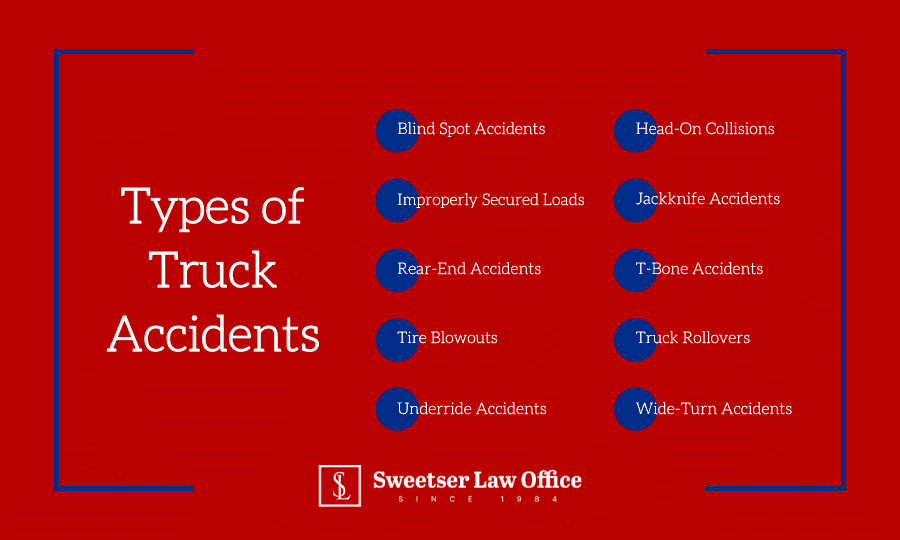 Common accidents can include:
Rear-end collisions due to the inability to stop in time
Jackknife accidents where the trailer slides to the side forming a jackknife shape to the cab
Blind-spot accidents
Rollovers
Underride accidents in which a smaller vehicle crashes into and slides under the truck
Truck Driver vs. Truck Company Negligence
In any truck accident, negligence/fault may be attributed to the truck driver and/or the trucking company. Drivers may be held accountable when violating traffic laws, Hours of Service regulations, driving under the influence of alcohol and/or drugs, driving while texting or using a cell phone, or while engaged in other negligent driving behavior.
Trucking companies may be held liable when they are found negligent in training or hiring, maintenance of vehicles, or record-keeping or for pressuring drivers to violate Hours of Service.
To help determine liability, our attorneys may investigate by reviewing:
Driving logs and records, including weigh-ins
Camera footage, if available
Collecting from bankrupt or insolvent motor carriers
Driving history of the vehicle and trailer
Inspection, repair, and maintenance records
Potential violations of federal and state laws regarding driving regulations
Past violations of state and federal trucking laws
Past criminal convictions
Potential manufacturing defects
Screening, hiring, training, and supervision of commercial truck drivers
Witnesses at the scene
The extent of injuries and fatalities when a truck and passenger vehicle collide, due to disparity in size and weight
If you or a loved one has been seriously injured in a trucking collision, don't delay! Immediately contact Sweetser Law Office today at (509) 444-4444!
How To Win in a Truck Accident Case
Because of the laws, regulations, and extensive resources of trucking companies in fighting claims, any truck accident case in Spokane calls for the services of a knowledgeable and seasoned attorney. Our firm will start by making a thorough investigation into the fact and circumstances surrounding your accident as well as your injuries in order to determine what your case is worth.
We will locate and document all supporting evidence to build your claim and negotiate on your behalf in seeking the damages you rightfully deserve. While most cases are settled outside of court, we will prepare your case for litigation should that settlement not truly reflect the full extent of your losses. Throughout all steps of the process, our priority is to fight for your legal rights and best interests.