Car Accident Attorney in Spokane
Contact Our Firm Today for a Free Case Evaluation!
Car accidents and collisions are the primary cause of catastrophic injuries and death in Spokane. Every day, people are killed and injured on our roads. Men, women and children walking, riding, biking, or driving to school or work; children crossing the street; and families setting out on long trips may never return home. Each year, thousands of people in Spokane will spend weeks in the hospital after severe crashes. Many will never be able to live, work or play like they did before.
What kind of accident were you involved in?

Car Crash Statistics for Washington State
Car accidents kill approximately 600 people in Washington State each year
Approximately 50,000 more are injured each year
Common injuries include spinal cord injury, traumatic brain injury, fractured and broken bones, nerve damage, or torn joints
Data shows that car crashes involving lane departure and intersections are particularly perilous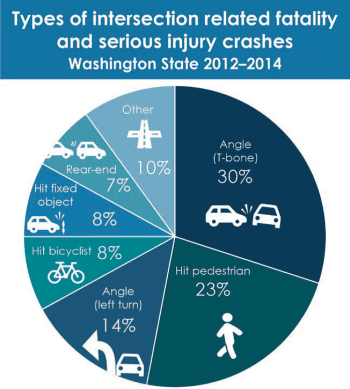 Why, then, do some people drive like this? Presumably, it's not because their intent is to cause harm to others or themselves. Yet when they deliberately speed, drive under the influence or pay closer attention to their phone than to the road, they are behaving in ways that reveal their indifference, whether or not they like what that says about them. They have chosen unsafe driving behaviors.
Car accidents are preventable. Safe driving is no accident. But safe driving does not just happen. The civil justice system is in place to hold accountable those responsible for car crashes. By enforcing the traffic safety rules, Sweetser Law Office does our part to keep people safe on the road every day.
What Causes Car Accidents?
Over half of traffic deaths involve an impaired driver
Two in five accidents involve a speeding driver
One in three accidents involve a distracted driver or pedestrian
In nine out of ten traffic fatalities, human behavior contributes to the crash
Often, we term these events "accidents," when, in fact, they result from poor driving behavior, including negligence, willful recklessness, and/or blatant disregard for traffic safety laws.

The Impact of Car Accidents in Washington
Statistics cannot tell the full story. The physical, psychological, emotional, financial, and societal loss for every person killed or injured in car crashes is enormous. Car accident injuries leave behind shattered families. More than half the people killed in traffic crashes are healthy adults between 15 to 44 years of age – often the breadwinners in a family. Their presence and contributions are greatly needed by their family and community. The loss of even one family member, co-worker, or friend as the result of another's negligence is devastating. That's why Sweetser Law Office is dedicated to enforcing the traffic safety rules that protect the community, because every life counts.
At Sweetser Law Office, we put a face behind the figures. Behind each statistic there is a story of a mother or father, daughter or son, sister or brother, grandchild, friend, colleague or classmate whose life was transformed in an instant. We know of the shock that can shatter a seemingly ordinary day with disbelief, denial, panic and rage. We see whole families left with the overwhelming realization that life will never be the same. Those affected can often struggle to come to terms with a new reality, one comprised of intolerable grief and loss. There are times that no amount of compensation from the responsible driver can make sense of the senseless. Sometimes no words can adequately convey the profound feeling of helplessness, even years later, that a car accident can leave behind.
Car accident stories and experiences do not discriminate. Victims come from low-, middle- and high-income, no matter the race, color, creed, or religion, from rural to urban area, from residents to tourists, adults and children alike. Their stories serve as a painful reminder of dreams unrealized, hopes unfilled, and the enormous suffering that could have been avoided.
How to Recover Compensation
If you believe that you were harmed due to another's negligence, then don't waste another moment. You need the help of a skilled car accident lawyer in Spokane who can help you pursue the maximum compensation you deserve. The insurance company will do everything in their power to pay the least amount to you. This is why an attorney is vital to your case-you need someone who will fight fiercely on your behalf and who knows their way around the territory.
We have over three decades worth of experience winning maximum financial recovery for the victims of Spokane. Contact us today.
Common Questions About Car Accidents in Spokane, WA:
When should I get an attorney for my car accident? While you always have the option of representing yourself in your claim, keep in mind that if you are dealing with extensive medical bills/treatment or a complicated case in which you are expected to provide evidence or communicate with the other party's insurance, it can be helpful to have an experienced car accident attorney representing you. In addition, if you were forced to miss work because of your accident, a lawyer can help you recover adequate compensation.
Are car accident settlements taxable? Whether or not your settlement money is taxable will depend mostly on what type of loss you are being awarded compensation for. In general, compensation that is meant to reimburse you for out-of-pocket expenses like medical bills are not taxable. However, to get more specific information about tax laws and your settlement, you should contact a professional tax adviser.
What is the average car accident settlement? The amount of compensation you may receive for your accident will depend largely on how severe your injuries are and what forms of treatment are required for you to make a recovery. To get a better idea of what compensation you may be entitled to, contact our office!
When am I required to report a car accident? Washington state requires individuals to report car accidents to the Department of Transportation any time there is a death, injury, or property damage in excess of $700. Normally a police officer will make the report on your behalf, but if not, it is your responsibility to report the accident. This can be done online and should be done within 4 days of the accident.
Related Reading:
Check out our blog for some additional information about car accident injuries and lawsuits!
Cold Weather Driving Tips - Cold weather should influence the way you drive; be prepared for this winter by reading up on some of our expert driving tips!
How to Deal with Uninsured/Underinsured Collisions - Being involved in a car accident is hard enough, but being involved in an accident with a driver who doesn't have the proper insurance coverage can be a nightmare. Luckily, we're here to back you up.
Dealing with Fatal Car Accidents - If you have lost a loved one in a fatal accident, you don't have to navigate this time alone. Our car accident lawyers in Spokane are prepared to guide you through the process.