Spokane Broken Bone Attorney
Sweetser Law Offices Can Help You Seek Fair Compensation

Broken bones and fractures caused by others (such as car accidents, nursing home falls, defective sidewalks or surfaces, or at children's playgrounds) typically involve a high force impact or stress that results in a more severe crack or total displacement of the bone. When the broken bone is caused by someone else's carelessness, the responsible party is held accountable for all of the damages done to the injured person.
The long terms effects of bone fractures can forever change a person's life.
Broken bone not healing? Contact Sweetser Law Office at (509) 444-4444 for a free consultation with a Spokane broken bone injury attorney!
Bone Fracture Cases
Severe displaced, compound, comminuted, or compression fractures are extremely painful and often lead to permanent complications. If a bone heals improperly because it is in a rotated position or at an incorrect angle, this is called malunion. Internal fixation (screws), plates or corrective surgery is often required.
Broken bones cause pain because nerve endings that encapsulate our bones contain sensory fibers that become inflamed when a bone is broken. Broken bones internally bleed, and this, in turn, causes swelling (edema) and pain. As your body attempts to repair a broken bone, any movement will cause more pain, so the injured limb is immobilized. Still, muscles spasm around the injured area as the muscles try to hold the broken bone fragments in place, and cause more pain.
Fractures that occur in the joints can lead to arthritis and limiting the range of motion. Even when the fracture is completely healed, there can still be scarring, chronic arthritis, physical disability and limited mobility. This is especially true with fractures involving the wrist, knuckles, elbows, hips, knees, and ankles.
Fractured bones can result in nerve injury if the fractured bone or fragments that break off of the bone damage nearby nerve tissues or fibers. Nerve injuries affect blood vessels near the fracture site. In the most extreme cases, Chronic Regional Pain Syndrome (CRPS) can happen where the pain and nerve sensitivity continue long after the bone has healed. CRPS happens during the trauma of the injury when the bone fracture permanently damages the nervous system.
Fractures involving the head, neck, and spine can cause serious and permanent injury beyond that of the broken bone. A skull fracture can push on the brain, bruising it and causing increased intracranial pressure (ICP). Left untreated, ICP can cause permanent brain injury and death. A broken neck injury could damage the spinal cord, resulting in temporary or even permanent paralysis.
Types of Bone Fractures
Diagnostic imaging is commonly used to diagnose a fracture or broken bone. Dislocation can usually be seen on an X-ray. Additionally, if a smaller fracture is suspected but not obvious on an X-ray, more advanced imaging diagnostics such as a CT-scan or MRI can be used.
Orthopedic injuries include broken bones, stress fractures, dislocations or deterioration of the bone.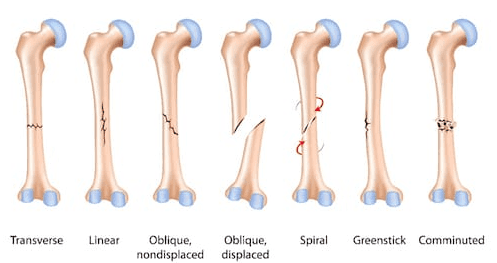 Closed Fracture: When the bone fractures but does not cause damage to the surrounding tissue or skin
Compound Fracture: When the bone fractures and damages/penetrates the skin; also known as an "open fracture"
Non-Displaced Fracture: When the bone fractures but remains in alignment; this is one of the most common types of bone fractures
Displaced Fracture: When the bone fractures and pieces of bone separate; these injuries often require surgery
Simple Fracture: When the break is relatively "clean," meaning there is little separation and the injury itself is closed (does not penetrate surrounding tissue or skin)
Transverse Fracture: When the bone fractures fairly cleanly but at a right angle; this is a relatively easy fracture to treat
Oblique Fracture: When the bone fractures at an angle or with a slant/curve; oblique fractures require immediate medical attention
Linear Fracture: When the bone fractures in one long break that goes down the length of the bone
Spiral Fracture: When the bone fractures in a "twisted" pattern, often as a result of a body part being caught in or under something
Comminuted Fracture: When the bone suffers multiple fractures or "shatters;" this is often a result of crush-related injuries
Greenstick Fracture: When the bone bends but does not break; this is a common injury in young children, whose bones tend to be more flexible
We can manage the insurance issues for you, making sure you get the best possible compensation for the injuries you have suffered. Contact us today at (509) 444-4444.
Our Objective in Handling Bone Fracture Cases
If you or the ones you love have suffered a fracture or broken bone, Sweetser Law Office is here to help you obtain the medical care you need and the financial recovery you deserve. We understand that traumatic fractures can be extremely painful and life-altering. You can call us today. For more information about what our past clients have to say, visit our
Testimonials
page.