Windstorms like those we are currently experiencing across Eastern Washington and Spokane can cause serious damage to homes and buildings. We've seen 71 mph wind gusts over the last two days, ripping trees from the ground that have fallen onto building and cars.
Falling trees can do significant property damage requiring repairs, and when the damage is severe it can force families to temporarily relocate. Suddenly, you and your loved ones are left with important questions to answer.
How should I get the roof fixed, and should it be partial or full replacement?
Where are we going to stay until the roof is repaired?
Can I afford to miss work?
What if it is a neighbor's tree that fell onto my property?
When falling trees cause damage to a home or building, typically some form of insurance coverage will cover the loss. Most homeowners' insurance policies will cover falling trees, branches, and limbs that result in property damage. The damage is usually a covered loss regardless of whether it was caused by wind, storm, rain, sleet or snow. Most insurance policies will cover unforeseen "perils" like wind or even lightening strikes, even it results in a neighbor's tree falling onto your property.
Because all insurance policies are different, it is important to obtain a copy of your insurance coverages and read them closely. You are entitled to a copy of the entire insurance policy from your insurance agent.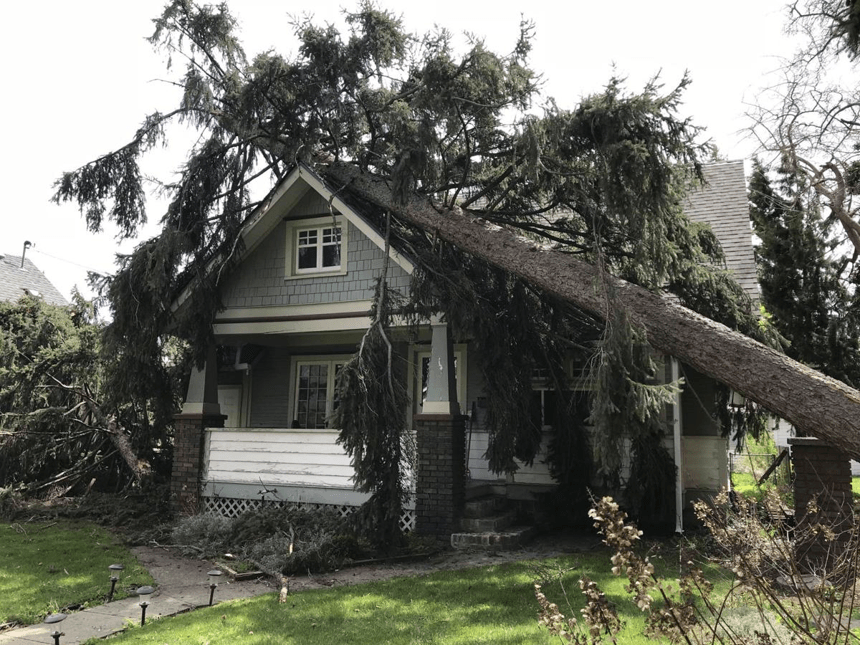 While most insurance companies will not misadvise their policyholders in a time of need, there are some that may give incorrect information. One common misstatement is that if it was your neighbor's tree or land that caused the damage, a claim should be filed against them rather than with your own insurance. Often this will be followed with a statement that you have deductible and this can help you avoid paying the deductible. These statements are generally misleading when you take the time to read the insurance coverage language. You bought insurance to cover you, and you can use it. If your insurance company believes another party is at fault, they can ask for reimbursement from that person's coverage.
When submitting a claim to your insurance company, you should outline all forms of covered losses. For example, covered losses can include the costs of repair, the costs of relocating to a hotel or Airbnb temporarily, missed work, or diminished home value. Repairs must restore the property, meaning you do not have to accept an incomplete repair because half a roof does you no good.
Do not delay in filing your claim. You should be proactive in filing the claim, or contacting a personal attorney to file the claim for you. Do not sign and return documents you do not understand. As the insurance policyholder who has paid for insurance to protect you and your family during this time, you are entitled to be treated fairly in the process.
Get Started On Your Case Today
Following through on the insurance property claim can be a tedious process. If your property was damaged and you want to speak with a personal attorney, or if the insurance company declined your claim, Sweetser Law Office may be able to help. Call for a free legal consultation.